Champagne Supernova
I like big bags and I cannot lie. I can freely stuff my school things, umbrella, kikay paraphernalia etc. inside without any worries. My boyfriend even started calling my everyday bag, the "magic bag" like the one Mary Poppins has. But big bags can only do so much. I needed a medium sized bag that's perfect for dates, casual lunches with friends, family dinners and the likes. Since almost all of my bags are extra large, I had no choice but to use them even if I'm only bringing a few stuff, hence giving me unnecessary weight to carry. But that was the case until the Accessorize event where they gave me this lovely, Birkin lookalike bag.


It's so dainty no? I really love the soft pink hue. During the event when I picked this bag, Anne told me that it suits me really well. I was unconvinced at first because I'm a huge sucker for giant brown leather bags nga. It's very unlikely for me to own a light colored bag and a medium at that. But after using it a few times, I realized that it was what's missing on my bag selection. A dainty, medium sized bag that can be casual or formal.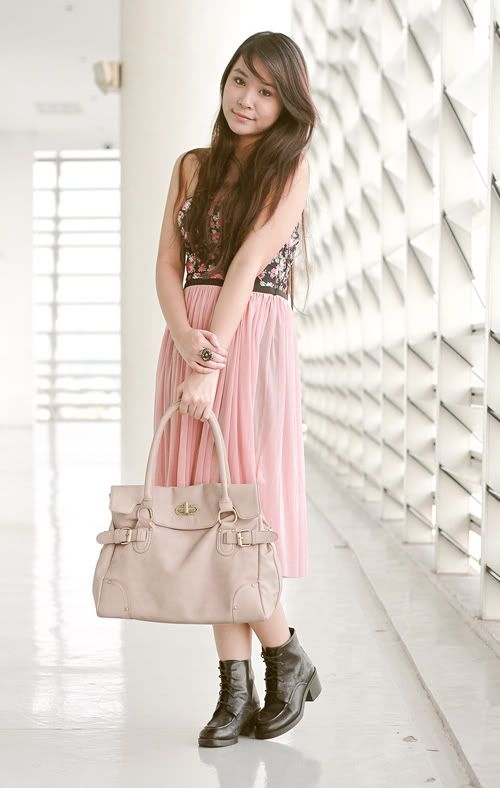 Hype this look on Lookbook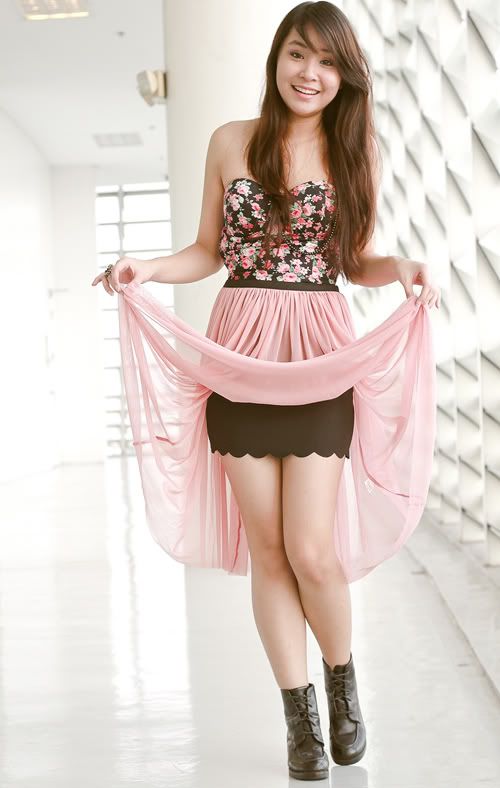 For this look I decided to channel Abby out of the four new collections of Accessorize for Autumn/Winter 2011 because it's the closest to my personal style. Abby is described as "an eclectic array of new and old, with inspiration drawn from vintage travel postcards, taxidermy, old script typography and antique collectables. Preppy heritage takes a stroll with bohemian grunge – think Nicole Richie and the Olsen twins. Clock faces, tapestry, patchwork and brocade all make for key element of this autumn look, as do semi-precious stone jewellery and elegant pearls. Dipped in animal prints and new camouflaged florals, Abby is eccentric and frivolously wild."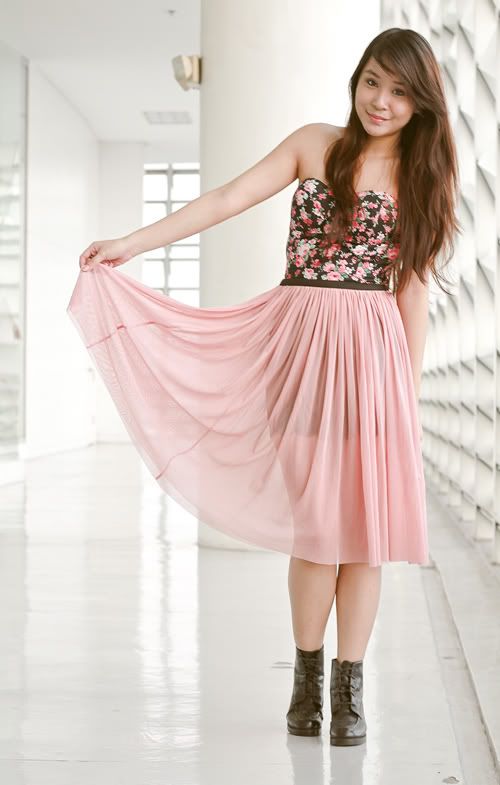 I hope you like my look as much as I do! I was just a bit unsure with the shoes (it was a last minute choice) but I think I pulled it off and check out the surprise scallop skirt underneath. I got it at a tiangge for only 350php, pink midi skirt from a thrift store (less than 80php, le ukay-ukay wonders), I bought the floral bustier online, boots from my gran in Canada, and of course the bag is a gift from Accessorize.




We're preparing for our finals week and I have tons of plates to do which explains the lack of updates but I'll be back real soon loves. Thank you so much to Moe for taking time out from her busy schedule so we can shoot these gorgeous photos and also to Accessorize! Here's a photo set I made featuring some of their beautiful bags. :)